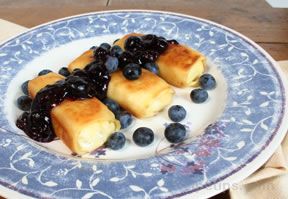 Directions
In a blender, combine the milk, water, eggs, flour, salt, sugar and nutmeg on medium speed for 10-15 seconds.
Add the melted butter and pulse until combined.
Refrigerate for one hour so it can rest.
In the meantime, in a food processor, combine the filling ingredients on medium speed until smooth.
Place in the refrigerator until ready to assemble.
For the sauce, go through blueberries and remove any moldy, soft, or blemished berries. Remove any stems remaining on the blueberries. Place in a colander and gently swish in cold water to wash berries. Allow to drain.
In a medium saucepan, combine the sugar, cornstarch, salt, cinnamon and water. Stir until mixture is smooth and then add the blueberries.
Cook over medium heat until sauce becomes translucent and has thickened. If sauce is too thin, add 1/4 teaspoon of cornstarch and continue to cook. If still not thick enough, add more cornstarch, 1/4 teaspoon at a time, until sauce is the desired thickness.
Remove from heat and add lemon zest and lemon juice to the sauce. Stir until well mixed.
Allow the sauce to cool before storing in the refrigerator.
Blueberry sauce can be used as a topping on waffles, pancakes, cakes, cheesecakes, or ice cream.
In an 8 inch crepe pan brushed with melted butter, pour 1/4 cup of the crepe batter.
Swirl the batter so the bottom is completely covered.
Cook over medium heat for 30-35 seconds or until the batter starts to set.
Bang the edge of the crepe pan with a heavy spoon to loosen the batter, flip the crepe and cook for another 30 seconds.
Slide the crepes off onto a platter and cover with a towel to help keep them warm.
Preheat the oven to 400°F.
Spoon 1/4 cup of the chilled cheese filling onto one edge of the crepe.
Roll the crepe up burrito style and place seam side down in an oven proof skillet.
Brush all with melted butter and fry the blintz just until crisp on all sides.
Place the skillet in the oven and bake all blintz for 10 minutes.
Serve warm with blueberry sauce.
Prep Time: 1 hour
Cook Time: 40 minutes
Container: blender, food processor, oven proof skillet, 8 inch crepe pan, saucepan
Servings: 10
Serving Size: cup


Ingredients
-
BATTER:
-
1 cup milk
-
1/4 cup cold water
-
2 eggs
-
1 cup flour
-
1/4 teaspoon salt
-
1 tablespoon sugar
-
1/4 teaspoon nutmeg
-
3 tablespoons butter - melted plus more for cooking crepes
-
FILLING:
-
1 1/2 cups ricotta cheese
-
4 ounces cream cheese
-
1 tablespoon lemon zest
-
1 egg
-
2 tablespoons powdered sugar
-
4 tablespoons honey
-
BLUEBERRY SAUCE:
-
1 cup sugar
-
1 tablespoon cornstarch
-
1/8 teaspoon salt
-
1/8 teaspoon cinnamon
-
2/3 cup water
-
3 cups blueberries
-
zest from one lemon
-
1 tablespoon lemon juice