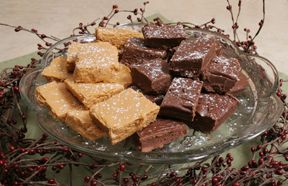 Directions
Combine butter, milk, sugar and salt in a medium saucepan.
Bring to a boil over medium heat, stirring constantly.
Boil 4-5 minutes, stirring continuously.
Remove from heat. Stir in marshmallows, chocolate or butterscotch chips, vanilla and nuts.
Stir until the marshmallows and chips are melted.
Pour into a foil lined baking pan.
Sprinkle with more nuts if desired.
Chill until firm, at least 3 hours.
Can sprinkle powdered sugar over the fudge if desired.
*Note: This recipe can be doubled easily and made in a 9x13 pan.
Prep Time: 10 minutes
Cook Time: 15 minutes
Container: 8x8 baking pan, medium saucepan


Ingredients
-
2 tablespoons butter or margarine
-
2/3 cup evaporated milk
-
1 1/2 cups sugar - raw or granulated
-
1/4 teaspoon salt
-
2 cups miniature marshmallows
-
1 1/2 cups semi-sweet chocolate chips or 12 oz. of butterscotch chips
-
1/2 cup pecans or walnuts - chopped, optional
-
1 teaspoon vanilla extract