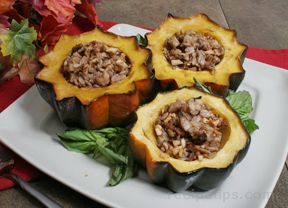 Directions
Cook the barley according to the package directions. Set aside.
Mix diced apples, basil, walnuts, maple syrup and cinnamon in a medium bowl.
Add in the barley.
Cut the squash in half across the middle and remove the seeds.
Cut the ends off each half so it will sit flat.
Sprinkle each half with olive oil and place on a baking sheet or baking dish.
Fill each cavity with the stuffing mix.
Cover with foil.
Bake covered at 350° F for one hour, remove the foil and bake for another 20 minutes or until the squash is tender and browned.
Boil 1/2 cup of apple juice until it becomes syrupy.
Drizzle over the top of the squash before serving.
Cook Time: 20 minutes
Container: large baking sheet or dish, medium bowl
Servings: 4


Ingredients
-
1/2 cup barley - cooked
-
1 apple - skinned, cored and diced
-
2 tablespoons basil - fresh and chopped
-
1/2 cup walnuts - chopped
-
2 tablespoons maple syrup
-
1 teaspoon cinnamon
-
2 acorn squash
-
2 tablespoons olive oil
-
1/2 cup apple juice