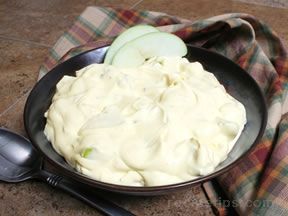 Directions
In a large mixing bowl, combine the French vanilla instant pudding mix with the milk.
Whisk until the pudding is set, approximately 3 minutes.
Cube the Granny Smith apple.
Cut the snickers into bite sized pieces.
Fold the non dairy whipped topping into the pudding mixture until combined.
Fold in the snickers and apples.
Refrigerate until ready to serve.
Prep Time: 15 minutes
Container: large mixing bowl
Servings: 12


Ingredients
-
1 package French vanilla instant pie filling - small box
-
1 cup milk
-
1 Granny Smith apple
-
3 snicker candy bars
-
8 ounces non-dairy whipped cream