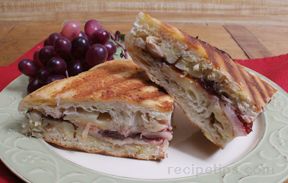 Directions
Cut loaf of bread in half.
Cut in half horizontally through the middle.
Butter outside of bottom half and place on the panini pan.
Spread mustard on the top side of the bread in the pan.
Layer cheese over the mustard, then the carmelized onion, then cranberries and then the pear.
Top with six more slices of cheese.
Top with the top half of the bread.
Butter the outside all over.
Turn heat onto medium, press the panini press on top and grill until the bottom is golden brown, approximately 8-10 minutes.
Flip the sandwich over, press and grill the second side.
Serve warm.
Prep Time: 15 minutes
Cook Time: 20 minutes
Container: panini press
Servings: 2


Ingredients
-
6 slices turkey - thin sliced, left over turkey works great
-
1 tablespoon brown mustard - spicy
-
12 slices Muenster cheese - thin sliced
-
1/2 onion - thin sliced and sauteed in olive oil for 15 minutes
-
1/2 cup cranberry sauce
-
1/2 pear - skinned, sliced thin
-
1/2 loaf of your favorite unslliced bread - peasant bread