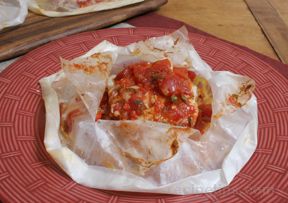 Directions
Heat 4 tablespoons of olive oil in a saucepan or dutch oven over medium heat.
Add the red onion, red pepper, garlic, oregano, parsley and capers.
Saute for 10-15 minutes.
Add canned tomatoes, lemon juice and red pepper flakes.
Stir and simmer over medium low heat for 10 minutes and then remove it from the heat.
Cook pasta according to package directions and then drain.
Place in a medium bowl and drizzle with olive oil.
Tear off 4 pieces of waxed paper to be 14 inches long.
Fold each sheet in half.
Cut an 8 or 9 inch circle, leaving the folded side intact. Open up the sheets.
On one of the circles, place a small amount of pasta.
Top with a spoonful of the tomato sauce and then a fish fillet. Top that with another spoonful of tomato sauce.
Season with salt and pepper.
You may also sprinkle a little parmesan cheese on top of the sauce.
Fold the other circle over the top.
Go around the edge and fold it over 2 or 3 times to seal.
Place on a baking sheet and repeat with the rest of the fillets.
Bake in a 350° F oven for 12-15 minutes.
Note: You will have sauce left over but it can be used as any pasta sauce would be used. The sauce makes approximately 4 cups.
Prep Time: 30 minutes
Cook Time: 30 minutes
Container: large baking sheet, waxed paper, saucepan, pasta pot
Servings: 4


Ingredients
-
42 ounces Italian style tomatoes - chopped and undrained
-
salt and pepper to taste
-
1 tablespoon oregano - fresh and chopped
-
1 tablespoon parsley - fresh and chopped
-
1 tablespoon garlic - minced
-
1/4 cup red onion - chopped
-
2 tablespoons capers - drained, rinsed and rough chopped
-
1 red bell pepper - seeded and chopped
-
2 tablespoons lemon juice
-
1/2 teaspoon red pepper flakes
-
6 tablespoons olive oil
-
1/2 pound spaghetti or linguini