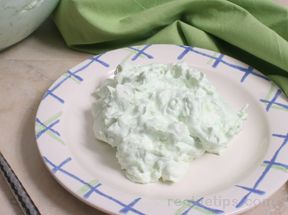 Directions
Empty the can of pineapple into a medium size bowl. Do not drain.
Sprinkle the package of pudding mix over the pineapple and stir to mix thoroughly. Allow this mixture to sit for about 5 minutes so it thickens a little.
Fold in the whipped topping and marshmallows. Fold in until the pudding and pineapple mixture is evenly mixed with the whipped topping. Do not over stir.
Place in the refrigerator until ready to serve. This salad keeps well in the refrigerator for 2 or 3 days.
Prep Time: 15 minutes
Cook Time: 0 minutes
Servings: 10


Ingredients
-
1 can crushed pineapple (large can)
-
1 3 oz. package of instant pistachio pudding
-
1 8 oz. container of whipped topping
-
2 cups minature marshmallows