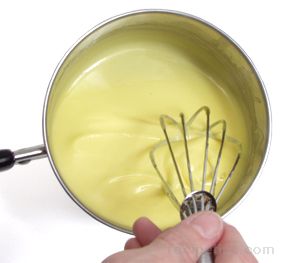 Directions

Important: Make sure everything that is needed is within reach because once the cooking process has begun, the whisking of the egg yolks cannot stop.


Place the egg yolks in a small saucepan (which is not heated) and add one tablespoon of cold water per yolk.
Whisk the egg yolks and water (off the heat) for about 45 to 60 seconds; then place the pan over low heat and continue to whisk rapidly. The eggs must heat slowly or they may become granular. If the heat is too high, the yolks will scramble. It is important to keep the egg yolks in constant motion.
A sink or large bowl of ice water should be nearby so that if the egg yolks start to become too warm, the pan can be plunged into the cold water to stop the cooking.
When the egg yolks are smooth and have increased in volume, remove the pan from the heat. You should be able to see the bottom of the pan briefly between strokes of the whisk.
While whisking continuously, slowly add clarified butter or softened whole butter. (Make sure the clarified butter is not too warm.) Whisk in small quantities of butter at a time. The sauce will not thicken if too much butter is added immediately. One large egg yolk is able to absorb as much as 3 ounces of butter, but it is best to use less than this to ensure that the yolks absorb all of the butter. (2 ounces of butter per yolk is suitable.)
To finish the sauce, add the lemon juice slowly while whisking and then add some salt to taste.
Note: Using clarified butter makes the hollandaise sauce thicker; using softened whole butter (which contains milk solids and water) makes a thinner sauce. A thick sauce is best for serving on eggs Benedict or steak; a thin sauce is appropriate for use on light recipes of fish or asparagus.
Prep Time: 10 minutes
Cook Time: 15 minutes
Container: small saucepan
Servings: 8
Serving Size: 2 tablespoons


Ingredients
-
3 egg yolks
-
3 tablespoons cold water
-
6 ounces clarified butter or softened whole butter
-
2 tablespoons lemon juice, freshly squeezed
-
1/4 teaspoon salt