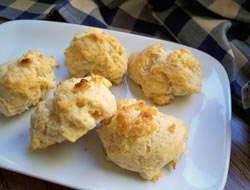 Directions
Mix together flour, baking powder, sugar, cream of tartar, and salt in large bowl.
Add shortening, cut in with pastry blender. Mix in milk, knead gently.
Drop by spoonfuls on greased cookie sheet or roll out on floured surface and cut out biscuits with cookie cutter.
Bake 450 degrees F. for 10-12 minutes.
Prep Time: 15 minutes
Cook Time: 12 minutes
Container: Baking sheet
Servings: 12


Ingredients
-
2 cups flour
-
3 teaspoons baking powder
-
1 tablespoon sugar
-
1/2 teaspoon cream of tartar
-
1/2 teaspoon salt
-
1/2 cup shortening
-
2/3 cup milk