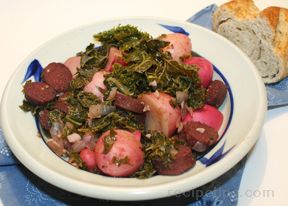 Directions
Heat oil in large skillet or saucepan and cook sausage (medium heat) until it begins to brown, about 5 minutes. Spoon off all but about 1 tablespoon of fat and add onion and garlic. Cook until onion softens, about 5 minutes.
While onions cook, rinse kale, strip greens from center stems and chop coarsely.
Add water, wine, black pepper and cayenne pepper to the skillet; stir in.
Add potatoes and kale, stirring occasionally as the kale wilts. Cover and adjust heat to maintain a simmer.
Cook until potatoes and kale are tender, 15 - 20 minutes ( may take longer if potatoes are large or kale is old). Taste for seasoning; add salt if necessary.
Serve hot.
Prep Time: 15 minutes
Cook Time: 30 minutes
Container: large skillet or saucepan
Servings: 4
Serving Size: 2 cups


Ingredients
-
1 tablespoon olive oil
-
1 pound spicy smoked sausage, such as kielbasa, Polish, andouille, etc; sliced
-
1 onion, chopped
-
2 cloves garlic, or more to taste, chopped
-
1 pound kale
-
1 cup water or broth
-
1/2 cup red wine (substitute water or broth)
-
1/4 teaspoon freshly ground black pepper
-
1 pinch cayenne pepper
-
1 pound potatoes, cut into 1 to 1 1/2
-
salt if needed