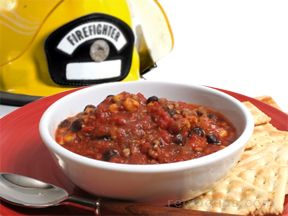 Directions
Chop white onion into small cubes
Remove seeds and membranes from peppers.
Place meat in saute pan or similar on stovetop burner. Brown meat on medium heat setting for 5 to 7 minutes. Drain excess grease from meat.
Add onions, garlic, and jalepeno peppers and continue browning. Cook for another 5 minutes or until vegetables are soft.
Combine all ingredients in slow cooker or stockpot for cooking.
Cook for 4 hours on low in slow cooker or cook for 1 1/2 to 2 hours on medium to medium low heat on stovetop burner.
Note: the chili may be somewhat spicy with the jalapeno peppers so alter accordingly for heat intensity preferences.
Prep Time: 30 minutes
Cook Time: 2 hours
Container: Stockpot or slow cooker
Servings: 6
Serving Size: cup


Ingredients
-
24 ounces Ground chorizo or other spiced pork
-
2 jalapeno peppers, chopped
-
1 medium onion, chopped
-
2 cloves garlic, diced
-
15 ounces black beans, drained and crushed
-
11 ounces corn, drained - canned or frozen
-
30 ounces tomatoes, crushed
-
15 ounces tomato sauce
-
1 teaspoon ground oregano
-
2 tablespoons chile powder
-
1 teaspoon ground cumin
-
1 teaspoon crushed red pepper flakes
-
2 tablespoons hot chile sauce or Asian hot sauce
-
2 teaspoons salt or to taste