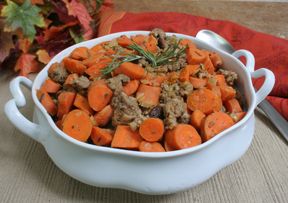 Directions
In a large skillet, heat oil over medium heat.
Add sliced carrots and onion.
Saute until crisp tender, approximately 15-20 minutes, stirring occasionally.
In a medium skillet, brown and crumble the sausage until no longer pink, 5-10 minutes.
Add sausage to the carrots, stir to combine.
Season with salt and pepper to taste and add rosemary.
Cook for 2-3 minutes.
Add the chicken stock and stir to combine.
Continue to cook until all is heated, 3-4 minutes.
Place in a large serving bowl and serve hot.
Prep Time: 20 minutes
Cook Time: 20 minutes
Container: large skillet, medium skillet, serving dish
Servings: 12


Ingredients
-
3 pounds carrots - trimmed and peeled, sliced into 1/2 inch slices
-
2 tablespoons olive oil
-
1 onion - finely chopped
-
3/4 pound Italian sausage - sweet variety
-
salt and pepper to taste
-
1 tablespoon rosemary - fresh and chopped
-
1/2 cup chicken stock