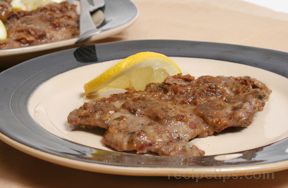 Directions
Using a meat mallet, pound the veal cutlets to a thickness of about 1/4 inch.
Dredge the cutlets in the flour into which a sprinkling of salt and pepper has been blended.
Heat the olive oil and butter in a large skillet and sauté the cutlets briefly until the veal is nicely browned.
Remove the veal from the pan and set it aside on a plate while preparing the sauce.
Over medium-high heat, add the chicken stock and sherry or white wine to the pan drippings and deglaze the pan, loosening any browned bits from the pan, stirring constantly.
Reduce the heat to a simmer, stir in the chopped fresh parsley, return the veal cutlets to the skillet, cover the pan, and cook for 15 minutes.
Cut the lemon in half and squeeze the juice of one half of the lemon over the veal (be sure to catch any seeds while squeezing, or squeeze the juice from the lemon into a small bowl before adding the juice to the pan). Use the other half of the lemon to make thin slices for a garnish.
When serving, spoon some of the pan sauce over the veal and serve immediately.
Option: tender cutlets of beef can be substituted for the veal in this recipe.
Prep Time: 10 minutes
Cook Time: 20 minutes
Container: medium or large skillet
Servings: 4
Serving Size: 1 piece


Ingredients
-
1 pound veal cutlets
-
1/4 cup flour
-
2 tablespoons olive oil
-
1 tablespoon butter
-
1/2 cup chicken stock
-
1/4 cup dry sherry or dry white wine
-
1 medium lemon
-
1 tablespoon fresh parsley, finely chopped
-
salt and pepper to taste