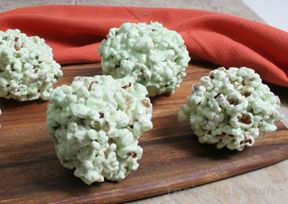 Directions
Put popped popcorn in a large roasting pan.
Place corn syrup and sugar in a medium saucepan over medium-high heat. Heat until boiling, stirring continually. Remove pan from heat.
Stir in marshmallow creme, butter and vanilla until combined. Add a few drops of food coloring until you get the color you would like.
Pour marshmallow mixture over popcorn. Stir until evenly coated. Allow to cool until mixture can be handled easily.
Grease hands lightly with butter to prevent popcorn mixture from sticking. Press into balls of desired size. Place balls on a sheet of greased, waxed paper and allow to dry.
Cook Time: 15 minutes
Container: medium suacepan, large roasting pan
Servings: 16
Serving Size: 1 each


Ingredients
-
20 cups popped popcorn
-
1 1/2 cups light corn syrup
-
1 1/2 cups sugar
-
7 ounces marshmallow creme
-
2 tablespoons butter
-
1 teaspoon vanilla
-
food coloring