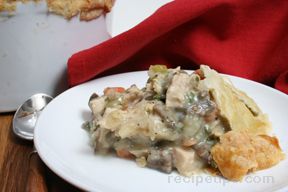 Directions
FILLING:
In a large skillet, melt 2 tablespoons of butter.
If using raw chicken breast, add to butter and season with salt and pepper.
Cook, turning once until lightly browned, approximately 10 minutes. Remove the chicken from the skillet.
If using leftover chicken, skip the previous steps.
To the skillet add the onion, carrots and mushrooms.
Stir and cook until slightly tender. (Approximately 5 minutes)
Add 2 cups of stock, thyme, rosemary and parsley.
Bring to a boil, then reduce heat to low and place the chicken back into the skillet.
Simmer for 10 minutes.
Meanwhile, in a small saucepan, melt the remaining 4 tablespoons of butter on medium high heat, whisk in flour to combine, then slowly add in 2 cups of chicken stock, whisking continuously, adding more liquid as the sauce thickens until all is used.
Add this roux to the chicken and vegetable mixture.
Transfer to the soufflé or baking dish.
Allow to cool completely before putting on the crust.
This filling can be prepared a day ahead, cooled and covered in the refrigerator.

CRUST:
Preheat oven to 375°.
Roll out pie crust to a 12 inch circle or 1 inch larger than your baking dish.
You can use pastry scraps to make cut outs to decorate the top of the pie if you desire.
Beat egg and milk and brush around the edge of the baking dish.
Top with the crust and press the pastry, crimping the edges, around the dish.
Brush lightly all over with the egg mixutre.
If using, place decorations on top and brush with egg mixture.
Using a sharp knife, cut 2-3 slits 1/2 inch long in the center of the pie for the stem to escape.
Bake until the top of the pie is golden brown (40-45 minutes).
Serve immediately.
Prep Time: 20 minutes
Cook Time: 45 minutes
Container: large skillet, 2 quart round casserole or soufflé dish
Servings: 6


Ingredients
-
6 tablespoons unsalted butter
-
3 pounds leftover chicken or raw boneless chicken breast - cut into bite sized pieces
-
1 teaspoon salt
-
fresh ground pepper to taste
-
1 tablespoon fresh thyme - chopped
-
1 tablespoon fresh rosemary - chopped
-
1 onion - diced
-
2 medium carrots - peeled and cut into 1/4 inch thick rounds
-
2 cups mushrooms - sliced
-
4 cups chicken stock - homemade or canned
-
2 tablespoons fresh parsely - chopped
-
1/4 cup flour
-
1 large egg
-
1 tablespoon water
-
1 frozen pie crust - thawed or can use homemade