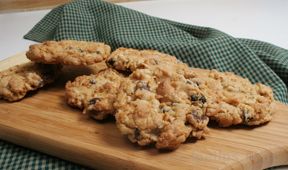 Directions
Cream brown sugar, sugar, and oil together.
Beat in the vanilla, baking soda, and salt.
Beat in eggs, one egg at a time.
Add the flour and beat just until ingredients are evenly mixed.
Pour this dough into a large bowl and add the oatmeal, corn flakes, raisins, chocolate chips, and coconut. Stir by hand until all ingredients are evenly mixed.
Drop rounded teaspoons of dough on to an ungreased cookie sheet. Be sure to leave sufficient space around each cookie to allow for them to spread when baking.
Place cookies into an oven preheated to 375° F and bake for 10 to 12 minutes.
Remove from the oven and allow them to cool on a cooling rack before storing.
Prep Time: 1.5 hours
Cook Time: 1.5 hours
Container: Cookie Sheet
Servings: 96
Serving Size: 1


Ingredients
-
2 cups brown sugar
-
2 cups sugar
-
2 cups vegetable oil
-
2 teaspoons vanilla
-
2 teaspoons baking soda
-
1 teaspoon salt
-
4 eggs
-
4 cups flour
-
1 1/2 cups oatmeal
-
4 cups corn flakes
-
1 cup raisins
-
12 ounces chocolate chips
-
1 pound coconut