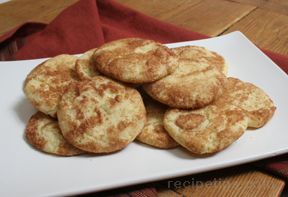 Directions
Place the shortening, sugar, and eggs in a mixing bowl and beat until creamy and fluffy.
Add the flour, cream of tarter, soda, and salt to the creamed mixture. Beat until well mixed.
Mix the cinnamon and sugar together until cinnamon is evenly distributed.
Roll dough into balls and then roll the balls in the cinnamon and sugar. Place on an ungreased cookie sheet.
Place in an oven preheated to 400° F and bake for 8 to 10 minutes.
Prep Time: 1 hour
Cook Time: 45 minutes
Container: Cookie Sheets
Servings: 48
Serving Size: 1


Ingredients
-
1 cup shortening
-
1 1/2 cups sugar
-
2 eggs
-
2 3/4 cups flour
-
2 teaspoons cream of tartar
-
1 teaspoon soda
-
1/4 teaspoon salt
-
2 teaspoons cinnamon
-
2 tablespoons sugar