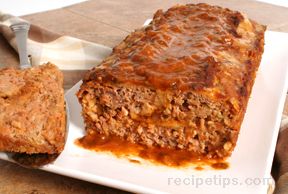 Directions
Preheat oven to 350°F.
Coat inside of pan with vegetable spray.
In a large bowl combine eggs, tomato sauce, uncooked rolled oats, onion, minced garlic, salt and pepper.
Add ground turkey to egg mixture and mix until well blended.
Place 1/2 of turkey mixture (or approximately 2 cups) into prepared pan.
Pat turkey mixture into the bottom of the pan and create an indentation through the center of the loaf.
Pour 1/2 cup of the prepared spinach sauce and 1/3 cup parmesan cheese.
Cover with remaining turkey mixture.
Sprinkle top of meat loaf with remaining cheese.
Drizzle with 1/4 cup of spinach sauce.
Bake 1 hour.
Remove meat loaf from oven. Allow meat loaf to rest for 15 minutes before serving.
Heat remaining sauce and serve with meat loaf.
Prep Time: 15 minutes
Cook Time: 1 hour
Container: 9
Servings: 6
Serving Size: 1 slice


Ingredients
-
1 pound ground turkey
-
1 egg, slightly beaten
-
1/2 cup tomato sauce
-
1/2 cup uncooked rolled oats
-
1/2 cup minced onion
-
1/2 teaspoon minced garlic
-
1/2 teaspoon salt
-
1/4 teaspoon black pepper
-
15 ounces prepared spinach sauce
-
1/2 cup grated parmesan cheese