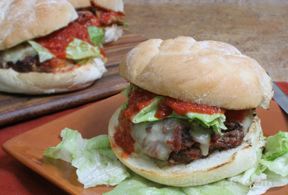 Directions
In a mixing bowl, combine the ground beef, pepperoni, pizza sauce, Italian seasoning, garlic and onions.
Mix well to combine all of the ingredients.
Divide into four equal parts and pat into burgers.
Salt and pepper each burger to taste.
Fry the burgers in a large skillet or they can easily be grilled. Cook approximately 6 minutes on each side or until they reach the desired doneness.
Place a slice of mozzarella or provolone cheese on each right before they are finished cooking. Allow the cheese to completely melt over the burger.
Spread a tablespoon of pizza sauce on each bun. Place a burger on top with lettuce and tomato.
Prep Time: 15 minutes
Cook Time: 15 minutes
Container: large skillet, medium mixing bowl
Servings: 4


Ingredients
-
1 pound ground beef
-
1/4 pound pepperoni - chopped
-
1/4 cup pizza sauce - extra to use as a condiment
-
1 clove garlic - minced
-
1/4 cup onion - minced
-
1 teaspoon Italian seasoning
-
salt and pepper to taste
-
4 slices mozzarella cheese or provolone cheese
-
1 tomato - sliced
-
romaine or iceberg lettuce
-
4 crusty rolls - sliced