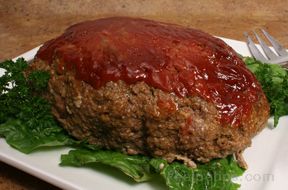 Directions
In a large bowl, combine the lean ground beef, ground pork, chopped onions, garlic, seasoning salt, Worcestershire sauce, bread crumbs, mustard, salt and pepper and eggs. It is often easiest to use your hands to blend the ingredients together.
Stir until well blended.
Pack the mixture into a greased, 9 x 5 loaf pan and smooth the surface. Spread the ketchup on the top of the meatloaf.
Bake in a preheated, 400º degree oven for approximately 1 hour. The internal portion of the meatloaf must be cooked to a minimum temperature of 160º as indicated by a meat thermometer.
Prep Time: 20 minutes
Cook Time: 1 hour
Container: 9 x 5 loaf pan
Servings: 9
Serving Size: 1 slice


Ingredients
-
1 teaspoon seasoning salt
-
2 teaspoons Worcestershire sauce
-
1 pound lean ground beef
-
1 pound ground pork
-
1/2 cup onion, chopped
-
2 cloves garlic, finely chopped
-
1 cup bread crumbs
-
2 eggs - beaten
-
1 teaspoon salt
-
1/2 teaspoon black pepper
-
3 tablespoons brown or yellow coarse mustard
-
1/4 cup ketchup