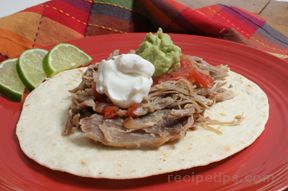 Directions
Place pork in a slow cooker.
In a small bowl, combine the vinegar, brown sugar, salt, red pepper flakes, black pepper, garlic powder, and seasoning salt. Pour the mixture over the pork roast.
Cover the slow cooker and cook the pork on low heat for 10-12 hours.
Remove the roast to a tray or cutting board.
Using two forks, pull the meat apart until shredded.
Place shredded pork in a large bowl and pour some of the liquid from the slow cooker over the meat until it is as moist as you would like.
Return the meat to the slow cooker to keep it warm until it is ready to serve.
Warm tortillas in a hot skillet.
Place warmed tortillas on a plate and top with a serving spoonful of pulled pork.
Top with your favorite salsa and serve with sour cream and guacamole.
Prep Time: 15 minutes
Cook Time: 6 or more hours
Container: 6-quart slow cooker, a small bowl, and a large bowl
Servings: 16


Ingredients
-
5 pounds pork shoulder roast
-
3/4 cup apple cider vinegar
-
2 tablespoons brown sugar
-
1 teaspoon salt
-
1 teaspoon red pepper flakes - crushed
-
1 teaspoon black pepper
-
1 teaspoon garlic powder
-
1 teaspoon seasoning salt
-
16 tortillas
-
3 cups salsa
-
2 cups sour cream - optional
-
2 cups guacamole - optional