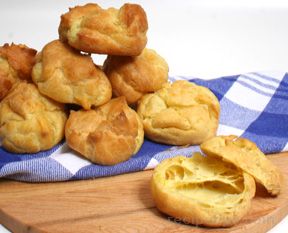 Directions
Preheat oven to 425ºF.
Boil water and butter in a small sauce pan. Add flour and stir briskly over low flame until a ball forms.
Remove mixture from heat and beat in eggs, with wooden spoon, one at a time in order to keep batter smooth. Continue to beat with wooden spoon until smooth.
If making small pastries, drop by tablespoonfuls two inches apart onto a baking sheet. If making large pastries, use double the batter and drop them three inches apart.
Bake 20 minutes for larger pastries and a little less for smaller ones or until lightly browned. As the crust browns, the inside opens up (Undercooking results in a sticky inner dough and a less open texture).
Remove from oven, pierce the side of each to let the steam out and set aside to cool.
Prep Time: 15 minutes
Cook Time: 45 minutes
Servings: 36
Serving Size: 1 each


Ingredients
-
1 cup water
-
3 ounces butter - cut into pieces
-
1 cup flour
-
4 eggs - large in size
-
1/8 teaspoon nutmeg