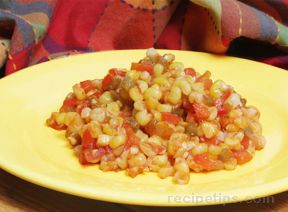 Directions
Cut up the peppers and onions. Dice the jalapeno. Set these ingredients aside.
In a large skillet, melt the butter over medium-high heat.
Add in the corn, bell pepper and onions.
Turn down the heat to medium and cook the vegetables for approximately 10 minutes, stir frequently. The vegetables should be cook until just tender.
Add the salsa and jalapeno. Stir and continue to cook until all ingredients are hot.
Serve immediately while still warm.
Prep Time: 15 minutes
Cook Time: 15 minutes
Container: large skillet
Servings: 4


Ingredients
-
3 tablespoons butter
-
10 ounces frozen corn - thawed
-
1 red bell pepper - chopped
-
3 green onions - chopped
-
1 jalapeño - seeded and diced
-
1/2 cup salsa - favorite variety
-
salt and pepper to taste