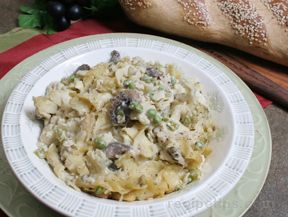 Directions
Heat oven to 350°F.
Cook the noodles according to the package directions; drain and set aside.
In a saucepan, cook the celery and onion in butter until tender.
Stir in the sour cream, milk, cream of chicken soup, chicken, mushrooms, peas, and noodles.
Mix until well combined.
Pour into a greased casserole dish.
Sprinkle the top with cheese and bake for 30 to 35 minutes or until bubbly.
Prep Time: 30 minutes
Cook Time: 35 minutes
Container: saucepan, 2-quart casserole
Servings: 6
Serving Size: 1 cup


Ingredients
-
8 ounces egg noodles
-
2 cups chicken - cooked and cubed
-
1/2 cup celery - chopped
-
1/2 cup onion - chopped
-
2 tablespoons butter or margarine
-
1/2 cup sour cream
-
1 can cream of chicken soup
-
3/4 cup milk
-
8 ounces mushrooms - sliced
-
1 cup peas - frozen or canned
-
1 cup parmesan cheese - grated