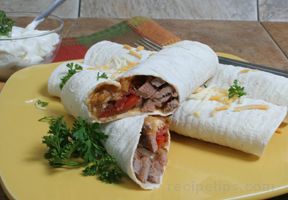 Directions
Place the beefsteak into a glass baking dish or glass bowl.
In a small bowl, combine tomatoes, olive oil, lime juice, salt, black pepper, garlic salt, Worcestershire sauce, and honey. (Note: add more or less salt and pepper according to taste.) Mix well and pour over the steak. Cover and refrigerate at least two hours, turning the meat occasionally.
Remove steak from dish and save the marinade mixture.
Grill the steak over medium-high heat for 10 to 12 minutes for medium doneness.
Grill the onion slices and pepper strips (in tin foil if necessary to prevent them from falling through grill grate) until they are tender.
In a small saucepan, bring marinade mixture to a boil. Cook on high heat for two minutes; then reduce to a simmer and cook for three minutes. Keep warm while preparing the fajitas. (Note: it is important that the marinade be well cooked to prevent possible foodborne illness that could occur as a result of being in contact with raw meat.)
Slice the steak across the grain, diagonally.
Place strips of the steak, peppers, cilantro, and onions onto a warm tortilla and top with the cooked marinade mixture.
Wrap the ingredients inside the tortilla.
Optional: add refried beans, guacamole, sour cream, or cheese to the wrap if desired.
Prep Time: 30 minutes
Cook Time: 15 minutes
Container: A glass baking dish or glass bowl and a small saucepan
Servings: 8
Serving Size: 1 each


Ingredients
-
2 pounds beefsteak (cuts from the chuck or flank work best)
-
15 ounces chopped tomatoes with mild green chiles
-
1 tablespoon olive oil
-
2 tablespoons lime juice
-
1/2 teaspoon salt
-
1/2 teaspoon black pepper
-
1 teaspoon garlic salt
-
3 tablespoons Worcestershire sauce
-
1 tablespoon honey
-
1 large onion, sliced
-
1 red or yellow pepper, cut into strips
-
1/4 cup cilantro - chopped
-
8 flour tortillas
-
Optional: Refried beans, guacamole, sour cream, shredded cheese