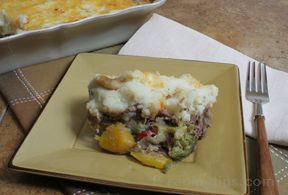 Directions
Preheat oven 375° F.
In large skillet, add the olive oil, onions, garlic, thyume, sage and cumin. Saute until the onions are translucent.
Add in the chopped roast beef and cook until warmed through.
Add flour and continue cooking 1 to 2 minutes. Slowly add broth. Bring to a full boil, then reduce heat and simmer 8-10 minutes.
Stir in mixed vegetables and remove from heat. Add salt and pepper to taste. Pour into baking dish.
Prepare instant potatoes or use leftover mashed potoates.
Spread potatoes over meat mixture.
Top with grated cheese.
Bake 25 minutes or until cheese has melted and potatoes are a light golden brown.
Prep Time: 30 minutes
Cook Time: 30 minutes
Container: greased 2 quart baking dish, skillet
Servings: 6


Ingredients
-
1 1/2 pounds roast beef - cooked and cut into cubes, leftovers work great for this
-
3 tablespoons olive oil
-
1 onion - small, chopped
-
1 tablespoon prepared minced garlic
-
1 teaspoon dried thyme
-
1 teaspoon dried sage
-
1 teaspoon ground cumin
-
1/3 cup all purpose flour
-
1 cup beef broth
-
2 cups Carribean blend frozen vegetables
-
1 teaspoon Worcestershire sauce
-
12 potatoes
-
salt and pepper to taste
-
1 cup colby jack cheese - shredded