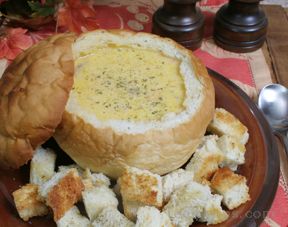 Directions
Sauté the carrots, celery and onions in the peanut oil until tender and slightly browned.
Bring the soup stock or broth to a boil, add the vegetables and simmer for 45 minutes.
Put the shredded cheese in a small bowl and sprinkle the flour over the cheese. Mix to coat.
Whisk the cheese into the soup, stirring constantly, until the mixture thickens.
Turn the heat to low, continue to stir.
Add salt, pepper, mustard, tabasco sauce and Worcestershire sauce.
Finally, add the beer and stir until the soup is hot.
Blend with an immersion blender until it is to your desired thickness. Can be as chunky or as creamy as you wish.
Garnish with parsley and serve with a crusty bread or bagel chips.
Prep Time: 20 minutes
Cook Time: 45 minutes
Container: large saucepan, small bowl
Servings: 8


Ingredients
-
1 cup carrots - chopped
-
1 cup celery - chopped
-
1 onion - chopped
-
2 teaspoons peanut oil
-
6 cups chicken stock or broth
-
1 1/2 cups Cheddar cheese - shredded or velveeta
-
2 teaspoons flour
-
salt and pepper to taste
-
1/2 teaspoon dry mustard
-
1/4 teaspoon Tabasco sauce - more to taste
-
1/2 teaspoon Worcestershire sauce
-
12 ounces bottle of beer - any kind
-
parsley for garnish