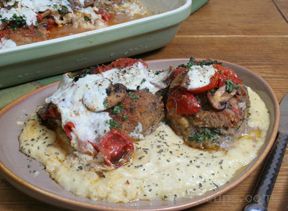 Directions
Preheat oven to 350° F.
Place baguette pieces in a small bowl, pour milk over it and allow it to sit and soak for 10 minutes.
In a large bowl, mix the beef, sausage, 1/2 of the parsley, 1/2 of the basil and garlic with your hands.
Squeeze the milk out of the bread with your hands and add it to the meat mixture.
Add eggs, cheese, ground pinenuts, salt and pepper.
Mix altogether thoroughly.
Shape the meatballs into large patties, approximately 3/4 cup each.
Then roll them into the breadcrumbs.
In a large skillet, heat the olive oil over medium heat.
When very hot, fry the meatballs just until the outside is seared on all sides, approximately 5-6 minutes.
They will not be done in the center.
Transfer to a baking dish.
Add a little more olive oil to the same skillet and sauté the mushrooms over medium heat until they start to brown, 10-15 minutes.
Place cut tomatoes in a medium bowl.
Squeeze and crush the tomatoes with your hands, drizzle with olive oil and sprinkle with salt and pepper.
Add the tomatoes to the browned mushrooms and allow to simmer for 10-15 minutes.
Pour the tomato mixture over the meatballs, sprinkle with the rest of the parsley and basil.
Sprinkle with fresh mozzarella.
Bake for 25-35 minutes or until bubbly and the meatballs are cooked through.
Serve on top of creamy polenta or buttered pasta noodles.
Prep Time: 25 minutes
Cook Time: 35 minutes
Container: 9x13 baking dish, small bowl, large mixing bowl, large skillet
Servings: 8


Ingredients
-
1/2 baguette - torn into small pieces
-
1 1/4 cups milk
-
1 1/2 pounds ground beef
-
1 1/2 pounds Italian sausage - ground
-
1/2 bunch parsley - rough chopped
-
1/2 bunch basil - rough chopped
-
2 cloves garlic - chopped
-
1/2 cup olive oil
-
4 eggs
-
1/2 cup parmesan cheese - shredded
-
1/3 cup pine nuts - ground
-
salt and pepper to taste
-
1/2 cup Italian bread crumbs
-
8 ounces baby bella mushrooms - sliced
-
2 pints cherry tomatoes - sliced in half
-
1 fresh medium sized ball of mozzarella - cut into small chunks