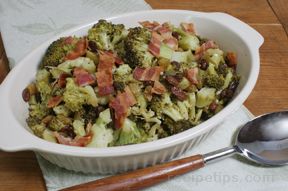 Directions
Cook bacon over medium heat in a skillet until crisp. Drain on paper towels. Reserve the bacon drippings in the pan.
To make the dressing, add garlic and raisins to the skillet, stirring until the garlic is pale golden, approximately 1 minute.
Stir in vinegar, oil, salt and pepper.
Bring to a simmer for one minute and then remove from heat.
Cook the broccoli florets and stems in a large pot of boiling, salted water for 4-5 minutes until crisp tender.
Drain broccoli and put in a large serving bowl.
Pour hot dressing over the broccoli.
Chop the cooked bacon and sprinkle over the top.
Toss to combine.
Prep Time: 15 minutes
Cook Time: 20 minutes
Container: large serving bowl, large pot, medium skillet or sauce pan
Servings: 8


Ingredients
-
2 pounds broccoli - trimmed and cut into 1 inch florets and the stems cut into 1/4 inch slices
-
4 slices bacon
-
1 clove garlic - finely chopped
-
1/3 cup golden raisins
-
1/3 cup raisins
-
1/4 cup apple cider vinegar
-
2 tablespoons olive oil
-
salt and pepper to taste