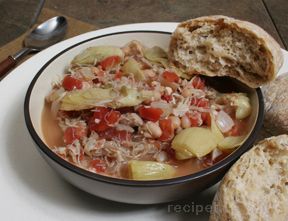 Directions
Wash artichoke hearts and cut into quartered pieces. Set aside.
Cut chicken into quartered pieces. Set aside.
Drain canned beans and wash. Set aside.
If fresh tomatoes are being used, dice the tomatoes and set aside. Canned tomatoes with jalapeno peppers can be substituted if desired for extra spicy flavors.
Wash cilantro and chop into small pieces.
Place olive oil into skillet and heat on stovetop at a medium to medium high setting. When sufficiently heated, add onion and sauté for 4 to 5 minutes. Onion should be softened and not crisp textured.
Add 1/2 teaspoon of taco seasoning mix to onion and oil mixture in skillet. Blend in with whisk.
Add chicken and garlic to skillet. Cook chicken until no longer pink inside, approximately 4 to 6 minutes.
Add another 1/2 teaspoon of taco seasoning or add more to increase the intensity to desired taste. Then add water to skillet mixture and bring to a boil.
Place artichoke hearts, tomatoes and beans into skillet mixture and lightly stir together. Allow all ingredients to simmer for 5 to 7 minutes uncovered.
Garnish with fresh parsley or cilantro.
Prep Time: 30 minutes
Cook Time: 15 minutes
Container: 12 inch Skillet and Blender
Servings: 6
Serving Size: 1 cup


Ingredients
-
13 3/4 ounces artichoke hearts, drained and quartered
-
1 3/4 pounds chicken
-
15 ounces canned white beans, drained
-
14 1/2 ounces diced tomatoes - canned, with or without jalapeno peppers
-
Option: fresh tomatoes instead of canned
-
1 tablespoon cilantro
-
1 tablespoon olive oil
-
1 cup fresh onion, chopped
-
1 package taco seasoning mix
-
2 teaspoons fresh garlic, chopped
-
1 cup water