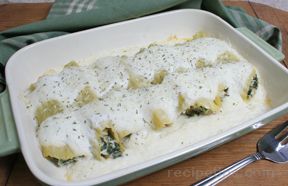 Directions
Cook pasta according to package directions. Drain and cool slightly.
In a large bowl, mix together the ricotta, grated parmesan cheese, egg yolk, basil, spinach, salt and pepper.
Preheat oven to 350° F.
Fill cooked pasta noodles with the crab meat mixture and place in a greased baking dish.
Melt butter oven medium heat in a saucepan.
Add flour and whisk until smooth.
Gradually add in the milk, whisking constantly, until the sauce is thick, smooth and creamy.
Do not boil.
Whisk in cheese. When melted, remove from heat, stir in salt, pepper, nutmeg and red pepper.
Pour the sauce over the noodles and sprinkle with 1/2 cup of parmesan cheese.
Bake until bubbly and slightly browned, approximately 15-20 minutes.
Serve hot.
* Note: you may want to spoon a small amount of the sauce in the bottom of the pan before adding the pasta shells to help keep them from sticking to the pan.
Prep Time: 25 minutes
Cook Time: 20 minutes
Container: large bowl, medium saucepan, 9x13 baking dish
Servings: 6


Ingredients
-
14 ounces imitation crab meat - chopped
-
8 ounces cannelloni or manicotti pasta
-
1 cup ricotta cheese
-
3/4 cup parmesan cheese - grated
-
1/2 cup romano, parmesan, asiago blend shredded cheese
-
1 egg yolk
-
10 ounces frozen spinach - thawed, squeezed to drain
-
1/2 cup fresh basil - chopped
-
1/4 teaspoon salt
-
1/4 teaspoon black pepper
-
5 tablespoons unsalted butter
-
1/2 cup flour
-
4 cups milk - 1 or 2 percent, warmed in the microwave for approximately 5 minutes
-
3/4 teaspoon salt
-
1/4 teaspoon black pepper
-
1 pinch powdered nutmeg
-
1 dash red pepper
-
1/2 cup parmesan cheese