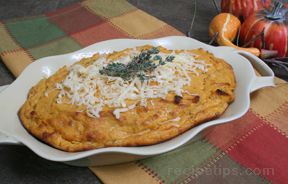 Directions
Preheat oven to 350° F.
Place sweet potatoes on a baking sheet and bake until tender, approximately 1 1/2 hours.
Remove the potatoes from the oven, split them down the middle and allow them to cool until easy to handle.
Scoop sweet potoates out of the skins and into a large mixing bowl.
Add the butter, half and half, cheese, sugar, thyme, sage, salt and pepper.
Use a hand held mixer and beat all together until thoroughly combined.
Beat in the eggs, one at a time, beating well after each addition.
Transfer the mixture to a greased 8x11 baking dish.
Bake in a 425° F. oven for 15 minutes.
Reduce heat to 400° F. and bake for another 30 minutes or until the potatoes are lightly puffed and browned.
Allow the souffle to rest for 10 minutes before serving.
Sprinkle with additional shredded cheese if desired.
Prep Time: 2 hours
Cook Time: 45 minutes
Container: 8x11 baking dish, large mixing bowl, mixer
Servings: 12


Ingredients
-
3 pounds sweet potatoes
-
6 tablespoons unsalted butter
-
1/2 cup half-n-half
-
1/2 cup Gouda cheese - shredded
-
2 tablespoons brown sugar
-
2 teaspoons fresh thyme - chopped
-
1 teaspoon dried leaf sage
-
salt and pepper to taste
-
3 eggs