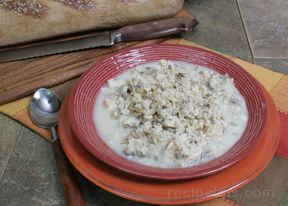 Directions
Bring broth to a boil.
Stir in rice or pasta and salt.
Bring to a second boil, lower heat, cover and simmer until the rice or pasta is tender, 20-25 minutes.
Turn off the heat.
Meanwhile, season chicken breasts with lemon pepper.
Grill over medium heat until browned on both sides and cooked through, approximately 8 minutes on each side.
Remove from the grill and allow to cool slightly. Cut into bite sized pieces.
Add the chicken to the simmering soup when the rice is done.
Separate eggs. Beat whites until peaks form.
Add the yolks to the shites and beat until blended.
Add lemon juice to the eggs and stir just until combined.
Gently spoon two ladles off the soup into the egg mixture to temper the eggs. You don't want them to cook.
Pour the entire egg mixture back into the soup and stir gently.
The soup will be frothy on the top.
Serve immediately. Serves will with crusty bread and a salad.
Prep Time: 30 minutes
Cook Time: 35 minutes
Container: large soup pot, medium mixing bowl, hand mixer
Servings: 10


Ingredients
-
12 cups chicken broth
-
2 cups basmatti and wild rice or any small pasta such as orzo
-
3 chicken breasts - boneless, skinless
-
2 teaspoons lemon pepper
-
4 lemon - juiced
-
4 eggs
-
salt and pepper to taste