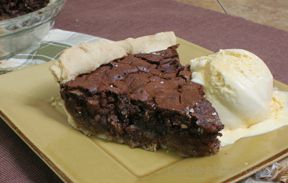 Directions
Either prepare your favorite pie crust recipe or use a store bought pie crust and place it into a 9 inch pie plate. Flute the edges as desired.
Scatter pecans evenly over the bottom of the crust. Break them into pieces if the pecans are too large.
In a small bowl, beat the eggs with a fork.
In a large mixing bowl, cream the butter, sugar and vanilla until light and fluffy.
Beat in the cocoa and the salt.
Gradually add in the egg mixture, making sure that they incorporate completely.
Stir in the corn syrup. The mixture will be thick.
Pour this mixture slowly over the pecans in the crust.
If any pecans do not get completely covered, submerge them with a handle of a spoon.
Let the pie stand for 2-3 minutes. If bubbles rise, pierce them with a toothpick. It's alright if some of the pecans rise to the top.
Bake in a preheated 400° F. oven for 10 minutes. Then, reduce the heat to 350° F. and bake for 33-37 minutes or until the edges are cracked and risen but the center still slightly jiggles when the pie is shaken gently.
Do not over bake.
If the crust begins to brown too much, cover the edges with foil. Don't let the foil hit the filling because it will stick to the foil when you remove it.
Remove from the oven and cool.
Serve with sweetened whipped cream or vanilla ice cream.
Prep Time: 30 minutes
Cook Time: 45 minutes
Container: 9 inch pie plate, mixer and large mixing bowl, small mixing bowl
Servings: 10


Ingredients
-
1 pie crust - prepare your favorite recipe or use a store bought crust
-
1 1/3 cups pecans
-
4 eggs - large
-
1/3 cup unsalted butter
-
3/4 cup brown sugar - packed
-
1/4 cup cocoa powder - unsweetened and sifted
-
1 teaspoon vanilla extract
-
1 pinch salt
-
1 cup light corn syrup