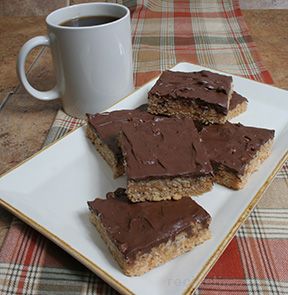 Directions
Mix sugar and syrup in saucepan. Over medium-low heat dissolve sugar and bring just to a boil; stirring often.
Remove from heat and stir in peanut butter, mix well.
In a large bowl, add cereal. Add the peanut butter mixture and mix well.
Press into cake pan; butter your fingers so cereal mixture doesn't stick to your hands.
In a mixing bowl, combine chocolate and butterscotch chips, sprinkle evenly over cereal mixure, wait 10 minutes, then with a spatula spread the chips until smooth.
Let cool until chocolate/butterscotch topping stiffens. Cut into 2" squares and serve.
Prep Time: 15 minutes
Cook Time: 10 minutes
Container: 9 x 13 cake pan
Servings: 24


Ingredients
-
1 cup sugar
-
1 cup light corn syrup
-
1 cup peanut butter - creamy
-
6 cups toasted rice cereal
-
1 cup chocolate chips - semi sweet
-
1 cup butterscotch chips