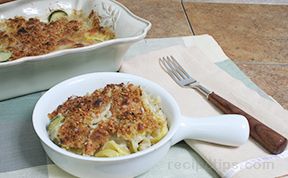 Directions
Preheat oven to 400° F.
Melt butter or margarine in large skillet on medium-low heat, add onion rings. Cook for 20 minutes or until tender but not browned. Add the zucchini and yellow squash, cook, covered for 10 minutes (just until tender).
Add salt, pepper, lemon pepper and nutmeg. Cook uncovered 5 more minutes. Sprinkle flour over top, add hot milk and stir to combine; until sauce thickens (3 to 4 minutes). Pour mixture into baking dish.
Combine the bread crumbs and cheeses, sprinkle over the top of the squash mixture.
Dot with 2 tablespoons butter or margarine, cut into small bits.
Bake for 20 minutes or until bubbly and browned.
Prep Time: 20 minutes
Cook Time: 20 minutes
Container: 8
Servings: 10
Serving Size: cup


Ingredients
-
6 tablespoons butter or margarine - plus 2 tablespoons for topping
-
3 medium onions, sliced into thin rings
-
2 medium zucchini, sliced into 1/4
-
2 medium yellow squash, sliced into 1/4
-
salt and pepper to taste
-
1 teaspoon lemon pepper seasoning
-
1/4 teaspoon ground nutmeg
-
2 tablespoons flour
-
2 cups hot milk
-
1 cup Italian bread crumbs
-
1/4 cup grated swiss cheese
-
4 ounces smoked black pepper white cheddar cheese, shredded