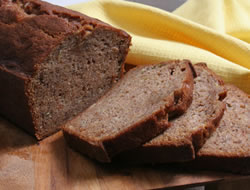 Directions
Preheat the oven to 350 degrees F. Grease and flour two loaf pans.
Place all dry ingredients in a large bowl. With a spoon, make a deep well in the center.
Place the rest of the ingredients into the well. Stir carefully, just enough to moisten all dry ingredients.
Pour into the prepared loaf pans.
Bake in the preheated oven for 50 to 60 minutes or until a toothpick poked in the middle comes out clean.
Note:You can use this same recipe for pumpkin bread. Substitute the bananas with 2 cups of mashed pumpkin.
Prep Time: 30 minutes
Cook Time: 60 minutes
Container: loaf pan
Servings: 28


Ingredients
-
3 cups flour
-
2 cups sugar
-
1 teaspoon soda
-
1 teaspoon Salt
-
3 teaspoons Cinnamon
-
1 teaspoon cloves
-
1 teaspoon nutmeg
-
1/2 cup walnuts
-
2 cups banana, mashed
-
4 eggs, beaten
-
1 1/4 cups vegetable oil