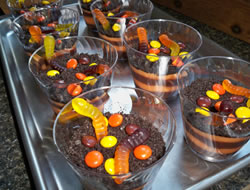 Directions
Mix vanilla and chocolate pudding according to the package directions in two separate bowls.
To the vanilla pudding, add 4-5 drops yellow food and 5-6 drops of red food coloring.
Mix to combine and if needed, add drops of food coloring to get the desired orange color.
Fill each cup, starting with chocolate, about 1/4 cup on the bottom. Then, add the vanilla pudding, another layer of chocolate pudding and the last layer the vanilla.
Top with one crumbled Oreo cookie and 8 Halloween M&M's and have one worm hanging over the edge of the glass.
Store in the refrigerator.
Prep Time: 20 minutes
Cook Time: 0 minutes
Container: two medium mixing bowls, 6 clear (4-6 oz.) plastic cups
Servings: 6


Ingredients
-
1 package chocolate pudding (5.9 oz) - instant or cook and serve
-
1 package vanilla pudding (5.9 oz) - instant or cook and serve
-
1 package Halloween M&Ms
-
6 gummy worms
-
6 Oreo cookies - crushed