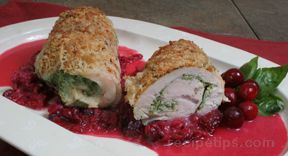 Directions
SPINACH STUFFING:
In a food processor, purée the spinach, chicken, egg white, basil, red pepper, salt and pepper.
Process until smooth, approximately 1 minute.
With the processor running, pour in the whipping cream.
Cover and refrigerate until ready to use.
TURKEY TENDERLOINS:
Lay the turkey tenderloins flat.
Slice the meat horizontally in half, cutting to but not through, to the other side.
The tenderloin should open like a book.
Lay it out flat. If areas of the meat are thicker than others, flatten it out with a meat mallet.
Spread approximately 1/2 cup of the spinach stuffing on top of each tenderloin.
Roll the tenderloin up, jelly roll style.
Lay the rolls seam side down in a baking dish.
Sprinkle all rolls with olive oil, salt, pepper, paprika, cheese and bread crumbs.
Pour 1/4 inch of the water in the bottom of the baking dish.
Roast uncovered, in 400° F oven 45-50 minutes or until a meat thermometer registers 170°.
Remove turkey from oven and allow it to rest for 5 minutes.
While the turkey bakes, make the cranberry syrup and beurre blanc sauce.
CANDIED CRANBERRY SYRUP:
Combine the sugar and water in a small saucepan.
Stir over medium heat until the sugar dissolves.
Add the cranberries and cook for 3-5 minutes more until the berries begin to pop.
Remove from heat.
Drain, reserving the syrup for the beurre blanc sauce and the berries for garnish.
BEURRE BLANC SAUCE:
In a medium saucepan, combine the dry white wine, cranberries, vinegar and shallots.
Bring to a boil, reduce heat and simmer for 5-10 minutes or until the mixtrue thickens. Stir occasionally.
Add butter and few pieces at a time, whisking together as you add.
Season with salt and pepper.
Remove from the heat, strain into a container with the reserved cranberry syrup. Stir together.
Cut the turkey into 1/2 inch slices and serve with beurre blanc sauce and garnish with fresh and candied cranberries.
Prep Time: 45 minutes
Cook Time: 45 minutes
Container: 9x13 baking dish, medium saucepan, small saucepan
Servings: 8


Ingredients
-
SPINACH STUFFING:
-
10 ounces frozen spinach - thawed and drained
-
8 ounces chicken - raw, skinless, boneless chicken tenders
-
1 egg whites
-
8 basil leaves - large
-
1 teaspoon salt
-
1 teaspoon pepper
-
1/2 teaspoon ground red pepper
-
1/2 cup whipping cream
-
TURKEY TENDERLOINS
-
4 (6-8 oz.) turkey tenderloins
-
olive oil
-
2 teaspoons salt
-
2 teaspoons pepper
-
2 teaspoons paprika
-
1/2 cup parmesan cheese - shredded
-
1/2 cup Italian bread crumbs
-
CANDIED CRANBERRY SYRUP:
-
1/2 cup sugar
-
2 tablespoons water
-
3/4 cup cranberries
-
BEURRE BLANC:
-
1/2 cup dry white wine
-
1 cup cranberries
-
1 tablespoon white wine vinegar
-
1 small shallot - chopped
-
3/4 cup butter - unsalted, cut into 1 inch pieces
-
2 tablespoons syrup from the candied cranberries
-
salt and pepper to taste