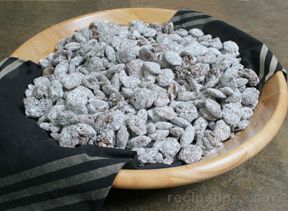 Directions
Melt peanut butter, butter and chocolate chips together in a large bowl in the microwave or in a saucepan on the stove top over medium heat.
Whisk part way through heating to keep it smooth.
Place powdered sugar in a large paper bag.
Pour the cereal into the chocolate mixture in a bowl.
Mix thoroughly to coat the cereal.
Pour coated cereal into the paper bag with the sugar.
Roll the top down tight and shake to coat the cereal with the powdered sugar.
Store in an airtight container.
Prep Time: 10 minutes
Cook Time: 5 minutes
Container: large mixing bowl, paper bag, air tight container for storage
Servings: 18
Serving Size: cup


Ingredients
-
12 ounces Chex cereal
-
1/2 cup peanut butter
-
1/2 cup butter
-
12 ounces chocolate chips
-
2 cups powdered sugar