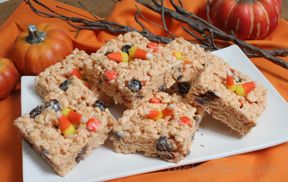 Directions
Melt butter and marshmallows together either in the microwave or on the stove top until smooth. Stir often.
In a large bowl combine the rice krispies and candy coated chocolate pieces.
When the marshmallows are melted and smooth, add a couple drops of yellow and red food coloring to turn it orange. Mix thoroughly. You can make it as dark as you wish.
Pour marshmallow mixture on to the rice krispies and chocolates. Stir to combine.
Pour into a buttered jelly roll pan.
With buttered hands, press the mixture into the pan.
While they are still warm, decorate the top with candy corns - optional.
Put in the refrigerator until set.
Cut into squares and serve.
Prep Time: 20 minutes
Cook Time: 10 minutes
Container: jelly roll pan
Servings: 24


Ingredients
-
1/2 cup butter
-
16 ounces marshmallows
-
10 cups rice crispies cereal
-
14 ounces candy coated chocolate candies
-
Red and yellow food coloring as needed
-
Candy corn for decorating