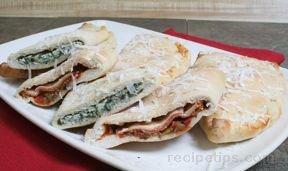 Directions
CALZONE DOUGH:
Place water in a large bowl.
Sprinkle yeast on top and whisk in the honey until everything is dissolved.
Use a whisk to stir in the salt and flour.
When too thick to mix with the whisk, mix with floured hands.
Knead on a floured surface for 5 minutes.
Shape into a smooth ball and place back in the bowl.
Brush with a little olive oil and cover the bowl with a towel.
Set the bowl in a warm place for 1-2 hours so the dough can rise.
The dough should double in size.
You can make the filling for these while the dough rises.
The dough may be made in advance and refrigerated or frozen until ready to use.
Allow it to come to room temperature before using and knead a few times to warm it up.
Punch down the risen dough.
Divide it into 6 equal portions.
Roll out the dough one at a time on a floured surface into a 6-8 inch circle.
FILLING:
Heat oil over medium heat.
Add onion and mushrooms and sauté for 10 minutes.
Add spinach, garlic, basil, salt and pepper.
Sauté 3 more minutes and set aside.
In a medium sized bowl, mix ricotta cheese and two mozzarella cheeses.
Add the spinach mixture and stir until combined.
Preheat oven to 450° F and spray a baking sheet with cooking spray
Place 1/2 to 3/4 cup of the filling on one half of the circle of dough, leaving 1/2 inch rim around the outside edge.
Sprinkle filling with parmesan cheese.
Moisten the outside rim of the dough with water using your finger or a small pastry brush.
Fold the dough over the top of the filling and crimp the edges. This will make a half moon shape.
Go around the edges with the tines of a fork to seal.
Prick the top of the calzone with a fork to let the steam escape while baking.
Arrange assembled calzones on the baking sheet and bake for approximately 15 minutes or until they are golden brown.
Brush the tops with butter or oil during the last five minutes of baking.
Serve warm.
Prep Time: 45 minutes
Cook Time: 15 minutes
Container: baking sheet, large skillet, large bowl, medium bowl
Servings: 6


Ingredients
-
CALZONE DOUGH:
-
1 cup warm water
-
1 1/2 teaspoons active dry yeast - regular or fast acting
-
1 tablespoon honey
-
1 1/2 teaspoons salt
-
2 1/2 cups flour
-
1 teaspoon olive oil - to brush on dough
-
FILLING:
-
1 tablespoon olive oil
-
1 cup onion - chopped
-
1 pound spinach - fresh, stemmed
-
salt and pepper to taste
-
4 ounces mushroom - sliced
-
5 cloves garlic - minced
-
1 tablespoon dried basil or three tablespoons fresh basil - chopped
-
15 ounces ricotta cheese
-
1 cup smoked mozzarella cheese - shredded
-
1 cup mozzarella cheese - shredded
-
1/2 cup parmesan cheese - shredded