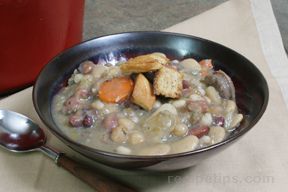 Directions
In a large bowl or pot, place the beans in with 6 cups of cold water. Cover and allow to sit for 6-8 hours or overnight.
Drain and rinse beans.
Place the beans in a dutch oven and add 6 more cups of water.
Brown the sausage in a skillet with one tablespoon of olive oil.
Add the red onion.
When browned, slice the sausage into 1/2 inch slices.
Add the sausage and onion in with the beans in the dutch oven.
Add the rest of the ingredients.
Bring to a boil, then reduce heat and simmer, covered for 1 1/2 hours or until the beans are tender.
Adjust seasonings to taste.
Prep Time: 20 minutes
Cook Time: 1.5 hours
Container: dutch oven, medium skillet
Servings: 8


Ingredients
-
1 pound dry soup beans - northern, navy, pinto or a blend
-
12 cups water
-
12 ounces sundried tomato and basil chicken sausage links - or your favorite variety of sausage
-
1 tablespoon olive oil
-
1/2 cup celery - chopped
-
1/2 cup red onion - chopped
-
1 carrot - diced
-
salt and pepper to taste
-
1 teaspoon Italian herb seasoning
-
2 tablespoons fresh rosemary - chopped