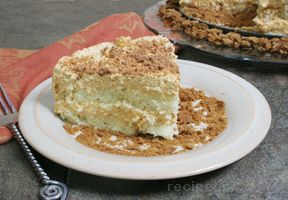 Directions
Prepare the pound cake according to package directions.
Allow to cool.
Whip the whipping cream and sugar until peaks start to form, approximately 4-5 minutes.
Add cream cheese, pumpkin purée and pumpkin pie spice.
Mix just until smooth.
Cut the pound cake into 1/2 inch wide slice.
Line the bottom of a springform pan with 1/2 of the cake slices.
You will need to cut them to fit. Crowd and overlap them to completely cover the bottom.
Sprinkle with 2 tablespoons rum.
Spread half of the pumpkin filling over the pound cake.
Repeat with second half of the pound cake slices.
Sprinkle with 2 tablespoons of rum then the rest of the filling. Smooth out the top.
Cover tightly with plastic wrap and then aluminum foil.
Chill overnight.
To unmold, run a knife around the edge and release the pan sides.
Place on a serving platter and sprinkle with crushed cookies.
Cut and serve.
Prep Time: 20 minutes
Cook Time: 45 minutes
Container: 9 inch diameter spring form pan, mixer
Servings: 10


Ingredients
-
1 package pound cake mix or 6 oz. ladyfingers, split in half lengthwise
-
8 ounces cream cheese softened
-
1 teaspoon pumpkin pie spice
-
1 1/2 cups whipping cream
-
3/4 cup sugar
-
15 ounces pumpkin purée
-
4 tablespoons spiced rum
-
8 small ginger cookies - crushed