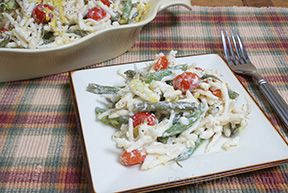 Directions
Boil pasta according to package directions, drain. Transfer hot pasta to large bowl, add ricotta and feta; Toss to combine.
Meanwhile, in skillet, warm oil over medium heat. Add green beans, garlic, salt and pepper and sauté for 5 minutes, tossing. Add chicken stock and lemon juice, continue cooking until beans are crisp tender; approximately 5-7 minutes.
Add pasta to pan with grean beans, toss to combine. Add tomatoes, toss gently. Transfer to serving plate and top with lemon zest.
Serve warm or at room temperature.
Prep Time: 15 minutes
Cook Time: 20 minutes
Container: large pot for pasta, large skillet, serving bowl
Servings: 8
Serving Size: 1 cup


Ingredients
-
1 pound pasta uncooked, any medium size
-
1/2 cup ricotta cheese
-
4 ounces feta cheese plain or flavored, cut into small pieces
-
3 tablespoons olive oil
-
3/4 pound green beans fresh, trimmed, halved
-
1 garlic clove
-
1 teaspoon salt
-
1 tablespoon lemon juice
-
1 cup grape tomatoes
-
1 lemon zested
-
1 cup chicken stock