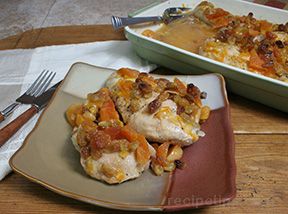 Directions
Preheat the oven to 350° F.
Place the chicken a baking dish, skin side up if using chicken with the skin on. Season the chicken with salt and pepper. Sprinkle ginger over the chicken. Spread marmalade on top.
Bake, uncovered, for 30 minutes.
Remove from the oven and pour the apple juice and orange juice in the dish; sprinkle chicken with apricots and raisins.
Bake another 30 minutes, uncovered, basting frequently.
Note: The pan sauce makes a wonderful fruit sauce to serve warm with the chicken.
Prep Time: 10 minutes
Cook Time: 1 hour
Container: 9
Servings: 10


Ingredients
-
10 pieces chicken breasts, thighs, or legs (or combine as desired)
-
1 teaspoon ground ginger
-
18 ounces orange marmalade
-
1/2 cup apple juice
-
1/2 cup orange juice
-
7 ounces dried apricots - roughly chopped
-
1 cup golden raisins