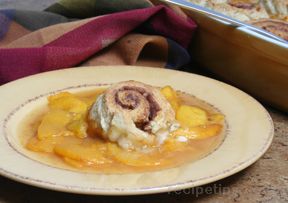 Directions
PEACH FILLING:
Lightly butter the bottom and sides of an 8 x 12 inch baking dish.
In a large bowl, combine the peach slices, brown sugar, cinnamon, and almond extract. Toss together until evenly mixed. Pour into the bottom of the buttered baking dish.
Place the peaches in an oven preheated to 375°F. Bake for 20 minutes before placing the topping on them. Peaches should be hot when topping is added.
TOPPING:
Prepare topping while peaches are baking. Combine the flour, sugar, baking powder, baking soda, and salt together in a bowl and whisk until evenly mixed.
Cut the cold butter into the dry ingredient mixture using a pastry blender until small pea size pieces form.
Add sour cream and work into the dough until it forms one or two lumps of fairly dry dough.
If there are two lumps of dough, work the dough with your hands until they are combined into one piece. The dough will be slightly sticky. Work the dough into a rectangle that is approximately 4 x 6 inches.
Place the dough on a lightly floured work surface. Roll out to be 8 x 12 inches. Turn dough over a couple of times while rolling out and lightly flour if sticky when rolling.
Shape the edges with your finger tips to keep the dough in a nice rectangle shape.
Mix the sugar and cinnamon together in a bowl. Brush the surface of the dough with melted butter. Sprinkle the cinnamon and sugar evenly over the dough, leaving about an inch of dough uncovered along the 12 inch edge, opposite of where you will begin rolling.
Roll the dough up so that the cinnamon and sugar are rolled inside the roll. When the dough is rolled up, pinch the finished edge to seal.
Cut the roll into 12 pieces that are each approximately 1 inch wide.
Place the cut pieces of dough, cut side up, evenly on top of the peaches in the baking dish. There should be approximately an inch in between the pieces of rolled dough.
Note: if the baking dish is fairly full, place it on a foil lined baking sheet to catch any overflow.
Have the oven preheated to 375°F and place the baking dish on the lower rack. Bake for 40 to 45 minutes.
The slump is done when the fruit is bubbling and the topping is well browned. Also, check topping for doneness by lifting one of the biscuits in the middle of the dish to make sure the biscuit is not still doughy.
If serving warm, allow the slump to cool slightly before serving. The slump can also be cooled completely and serve at room temperature if desired.
Prep Time: 1.5 hours
Cook Time: 20 minutes
Container: 8 " x 12" baking dish
Servings: 10


Ingredients
-
FRUIT FILLING:
-
8 cups peaches, sliced thin
-
3/4 cup brown sugar
-
1/2 teaspoon cinnamon
-
1/2 teaspoon almond extract
-
TOPPING:
-
1 2/3 cups flour
-
2 tablespoons sugar
-
2 teaspoons baking powder
-
1/4 teaspoon baking soda
-
1/4 teaspoon salt
-
1/4 cup butter, cold
-
1/2 cup sour cream
-
2 tablespoons butter, melted
-
2 tablespoons sugar
-
1 teaspoon cinnamon