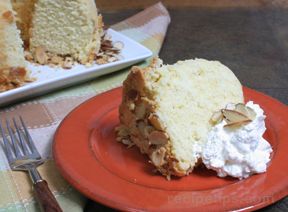 Directions
Preheat oven to 300°F.
Grease and flour tube pan.
Cream butter and sugar in mixer.
Add eggs one at a time making sure each one is incorporated before adding the next.
Add flour and cream alternately.
Add vanilla and almond extracts.
Sprinkle almonds on top.
Place in the oven and bake for 90 minutes.
Allow to cool in the pan for 30 - 40 minutes.
Invert onto serving platter when cool.
Serve as is or top with non-dairy whipped topping and garnish with almonds.
Prep Time: 15 minutes
Cook Time: 1.5 hours
Container: tube pan, mixer, serving platter
Servings: 12
Serving Size: slice


Ingredients
-
3 cups sugar
-
3 cups cake flour
-
6 eggs
-
1 cup butter
-
1/2 pint non-dairy whipped cream
-
1 teaspoon vanilla extract
-
2 teaspoons almond extract
-
3/4 cup almonds sliced, untoasted