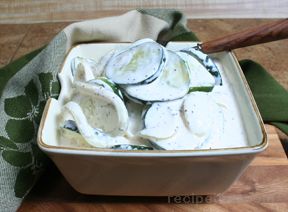 Directions
Slice onions and cucumbers into thin slices.
Add salt and allow to sit overnight in the refrigerator in a covered container.
Next day, drain and press out any moisture.
In a small bowl, mix together the mayonnaise, vinegar, seasonings, sugar and tobasco.
Pour over the cucumbers and onions in a large bowl and gently combine.
Serve cold.
Prep Time: 15 minutes
Container: large, bowl, serving bowl, small mixing bowl
Servings: 8


Ingredients
-
1 1/2 cups mayonnaise
-
1/3 cup apple cider vinegar
-
1/4 teaspoon salt
-
1/4 teaspoon pepper
-
1/2 teaspoon garlic powder
-
1/4 teaspoon seasoning salt
-
2 teaspoons celery seed
-
2 teaspoons dry mustard
-
4 tablespoons sugar
-
2 dashes tobasco
-
2 cucumber sliced 1/4 inch thick - peeled or unpeeled
-
1 onion sliced thin