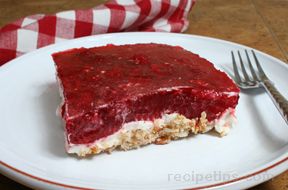 Directions
Mix pretzels, melted butter and 1/2 cup sugar.
Press into the bottom of a 9x13x2 baking pan and place in a 350° F. preheated oven. Bake for 10 minutes.
Mix cream cheese and remaining 1/2 cup sugar. Fold in whipped topping.
Spread on top of pretzel crust. Refrigerate.
Combine Jello with hot water. Stir until dissolved.
Fold in frozen raspberries.
Pour over cooled cream cheese mixture.
Refrigerate until ready to serve..
Prep Time: 15 minutes
Cook Time: 10 minutes
Container: 9 x 13 x 2 baking pan
Servings: 15
Serving Size: 1 piece


Ingredients
-
1/2 cup butter, melted
-
1 cup sugar
-
1 1/2 cups pretzels, coarsely crushed
-
8 ounces cream cheese, softened
-
12 ounces whipped topping
-
2 packages raspberry Jello (3.5 ounces each)
-
2 cups hot water
-
10 ounces raspberries, frozen